On Saturday we went to Hayling Island, a small island near Portsmouth and next to the Isle of Wight. We arrived there at 12 o'clock and went directly to Funpark Hayling Island. First we tried a rollercoaster called Klondike where you drove through goldmines. It had a looping and was fast but it was nothing compared to to the rollercoasters we did in Thorpe Park the day before. Then we went to the near beach and ate some really nice fish and chips. 

On Sunday we went to Stonehenge and Woodhenge. Everbody knows about Stonehenge but Woodhenge is even older. When it was built there were sticks rammed into the dirt which strechted into the air up to nine meters. Today there are only a  few stones in the places where the sticks had been before. [by Silas]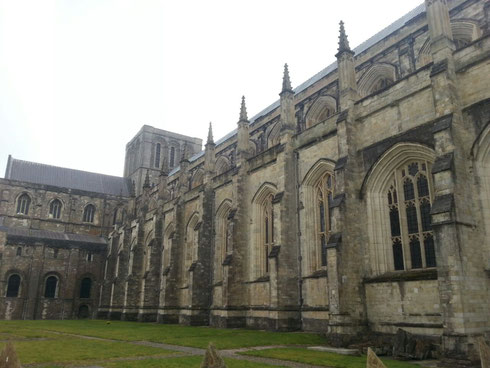 On Saturday my exchange partner took me and some of her friends swimming. We had a lot of fun! In the evening her mother cooked Mexican food, which was really delicious. On Sunday we first went shopping for a few hours in Basingstoke and afterwards we went to a science fiction club, where I met many interesting people. It was a lovely weekend!
Tina
On Saturday we went shopping in Basingstoke. Ellie and I bought a few clothes and other things from shops that aren't in Berlin. On Sunday, the family and I  went to a horse race! We brought a picnic that we ate in the car, because it was very cold outside. There was a human hamster ball, a big wheel and lots of bouncy castles and slides. There was also a sweet stand where we bought candy floss. The weekend was very nice!!! [Riccarda]
The Friday was really great day because we went to the Thorpepark with our exchange patners. At Friday afternoon we played same games and then I went to my confortable bed. At the next morning we ate Cornflakes and Begles. Such every day and a glass of orange juice. Two hours later we drove with the car to Stonhange. At Stonhange we have at first a break and ate sandwiches and match water. Then wetoke many pictures of the stones and talked about the reason, why the stones are there. After a while we walked a full round an we went back to the shop, near the car. There I bought souvenirs and I got a present from my guestfamily. At home we played games. At the next morning we walked to church. It was very interesting, because it's diffrent to Germany and I don't govto church usually.
It was a really funny, interesting and great weekend. Thank you for the best time in England and  thanks for the great weekend. [Laura]
On Saturday we went to an ice hockey match. It was interesting and very good.
On Sunday we went to a circus, it was very funny, because of the clowns.
It was a very good weekend.
My weekend was amazing! On Saturday we visited Stonehenge and on Sunday Legoland. It was really fun!  Written by Melin


On the weekend we went shopping in Guildford and I bought presents for my family and friends. After that we played games at home. In the evening we had dinner in a pub. It was very delicious. On Sunday we went bowling and had a lot of fun!!!
It was a great weekend and I enjoyed it!!! [Charlotte Kl]

On Saturday we made a long walk in a forest. Afterwards we bought some ice and cooked our dinner, a chinease meal. On Sunday we got up very early because we went to the beach. We had thought that the weather would be bad but it was quiet nice. Forblunch we had fish and chips and afterwards we went climbing, but indoor ;) In the evening we just watched a film.
It was a nice weekend

On Saturday Frederika and me we met Edzard in a shopping mall. With our change partners we were in many shops and bought some things. After that we were in the aquadrom. There we met Tina an her change partner. There were many slides and it was funny ;)  On Saturday we drove to Legoland where it was very cold. We were on many rollercoasters and it was cool too    [Paula]
On Saturday we went ice-skating. My exchange partner is really good in this. He's very friendly and funny. Sundays we walked through a big forest. Then we ate something at a typical Englisch pub. I tried some Yorkshire pudding and roast beef. It was really good. [Lukas] 

The weekend was a great experience for me. On Saturday we went to Hampton Court Palace.  It was really nice to see the old palace. On Sunday we visited Stonehenge and in the afternoon we went to a typical English restaurant. At Stonehenge it was wet and cold, but nevertheless it was super! These days and the whole werk were fantastic!
Thanks for all! [Elena]

On Saturday afternoon Sadie and I have been swimming with Lotte and her exchangepartner Charlotte. The swimmingcentre was awesome! On Sunday my exchange family and I went to Stonehenge. I have never seen Stonehenge before so it was very exciting! [Clara]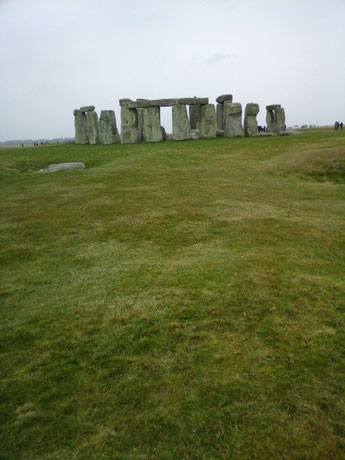 On Saturday we went swimming and bowling after this we go out for a really nice curry. On Sunday we went to gravity force. Gravity force is a really big and cool hall with really many trampolins. In the evening we went to Laura and her partner and played some games. The weekend was really cool [Viola]